29 November 2023
Where is the best place to put a rainwater tank?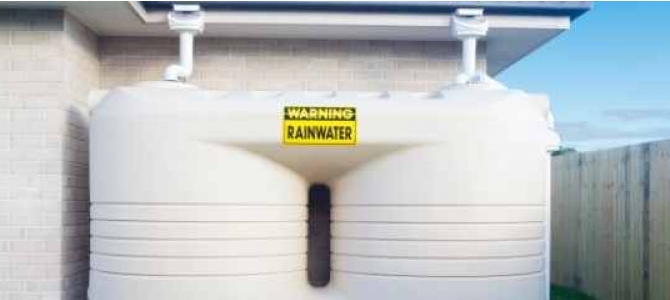 If you are looking to install a water tank, there are several factors you need to take into consideration when it comes to the placement of your water tank.
Not only do you need to consider the size of the tank you need to install, but you will also need to take into consideration local council regulations, especially if you plan to use your water tank to collect water for drinking, cooking, and washing as you will need to get council consent for this.
As well as the size of your tank, it is also important to make sure your tank is located within a close enough proximity to your property to maintain water pressure if you plan to use the water inside the house. If you are only planning to use the water for external activities such as watering the garden and washing the car, you do need to think about the proximity to those activities, however, it is not as important a consideration.
Here are some of the factors to consider when you are deciding where to put your water tank.
Tank size and dimensions
The best size of water tank for your property will be dictated by a number of factors – you can check out our recent post on What size water tank do I need? and this will give you some really good ideas about the best size and dimensions for the space you have to work with.
The material you are thinking about using will also dictate the location of your tank. If it is a new build project and you have the scope to install an underground tank, this is a good option for those looking for improved aesthetics. If you are adding a water tank to an existing property, retro-fitting underground tanks can be tricky unless you live on a large lifestyle block, so plastic or stainless steel tanks are usually easier to fit, however, they can pose issues both from a size perspective but also aesthetically.
Thankfully, water tanks are becoming much more flexible in their design and slimline water tanks are becoming increasingly popular in New Zealand as they can be styled to blend into existing features such as the side of a house or along a fence line.
Size of your property
There's no getting away from this one – if you have a small property, you are going to need a smaller water tank. Whichever way you look at it, if you want to collect large volumes of rainwater, either for potable or non-potable use, you are going to need space on your property to store your tank.
If you are adding a tank to a relatively small new build, there is a possibility of installing your tank underground, however, you will still need the space to install it and for it to be accessible for repairs and maintenance.
Property appearance
One of the big factors that go against installing a water tank is the way it looks on your property. They are big and cumbersome and no matter the colour, there is no getting away from the fact that they take up a lot of real estate and can also impact the views enjoyed from your property.
Try not to let this put you off, however. There are so many benefits of installing a water tank around the home – you can read more about that in our post Is it worth getting a water tank? – and there are some really clever ways of concealing your tank including screening the tank with plants and flowers. Embrace the tank as a feature and reap the benefits from your own water source 365 days a year.
Pipes and plumbing
The best place for a water tank is close to your property. Rainwater is collected from the roof of your property using a downpipe connected to the tank. The closer to the property, the easier it is to connect your downpipes and the less work you are going to need in order to start collecting rainwater. When tanks are located away from the property, you require a series of pipes running through your property in order to store the water collected from the roof.
Monitoring your water levels and consumption
If you are considering installing a water tank at home, then it's a good idea to monitor both the amount of water in your tank as well as understanding more about your consumption. This is especially true if you are planning on using your tank as the main source of water in your property, but even if you are just using your tank for watering the garden or washing the car, it still pays to know how much water you have got to play with heading into the drier summer months here in New Zealand.
At Smart Water, we have engineered the most advanced tank level indicator available that now offers full cloud connectivity.
Easy to install yourself, your Smart Water tank indicator provides you with all the information you need from our app or from one of our LCD displays. Find out how much water you consume on average from your tank, accurate pressure data and estimates on when your tank will run out of water based on current usage.
Find out more about our range of products or check out our FAQs for more information.