29 January 2023
Is it worth getting a water tank?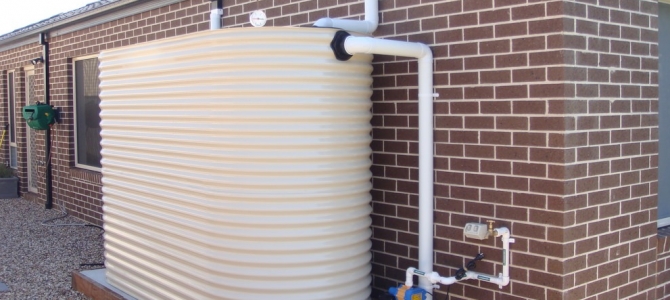 The summers of 2020 and 2021 really brought water consumption in New Zealand to the front of mind, especially in Auckland. Hot summer days led to drought conditions and water restrictions across Auckland and other parts of the country in 2020 and 2021 and it was only after a particularly wet spring in 2021 that water levels around the country began to return to the levels we are used to during the summer.
Auckland started to experience water shortages in the summer of 2020. The city recorded a new record of 40 days without rain in January to February 2020 and this led to the introduction of water restrictions for Aucklanders that carried on until late 2021.
The winter and early spring of 2021 provided some relief with Auckland dam levels returning to levels not seen since 2018 and water restrictions were lifted in the summer of 2022, with people able to get back to watering their gardens in the hot and dry summer months.
The trend of hot, dry summers seems likely to continue and authorities will be carefully monitoring water levels and water usage to ensure we don't run into similar problems as we head towards the summer months.
Auckland water levels
Following the introduction of water restrictions in February 2020, the Watercare website saw a huge spike in the number of people searching for 'auckland water levels'. Prior to that, there was hardly any search demand at all, and this trend has continued through to the present day.
Aucklanders became familiar with the names of the dams located in the Hunua and Waitakere ranges but more importantly, we all started to pay more attention to the water we were using.
It also got more people thinking about tank water. Whilst there are still plenty of houses in New Zealand that rely on tank water and that are not connected to the mains, even houses with tap water started to think about the potential benefits of installing a water tank and how this could impact their water use.
Making water tanks more viable
With more people investigating the potential to install a water tank at their residential property, Auckland Council realised they needed to do more to encourage people to take the next step and install a water tank.
They recognised the crucial role water tanks play in Auckland's overall water consumption – the more people collecting rainwater for use in and around the home, the less reliant households become on the central water supply. In 2020, they pushed through one change and one further change is currently under review:
Auckland Council has removed resource consent fees for the installation of rainwater tanks at residential properties - APPROVED
Through a change to the Auckland Unitary Plan, water tanks are now a requirement for new residential property developments – UNDER REVIEW
The introduction of more water tanks, especially those in any new development in Auckland, could help to reduce the reliance on central water supplies and reduce the strain on Auckland dams.
Another factor making water tanks a more viable solution for many homes is the variety of available water tanks. Traditionally, tanks have been extremely bulky and required a large amount of land to install. Now, slimline water tanks can hold a significant volume of water, making them practical for installation against fences or against a property where they can blend into the environment.
Benefits of water tanks
There is a wide range of benefits to installing a water tank at home including reducing your monthly water bill. Water tanks work by collecting the rainwater that falls on your property roof and funnelling this via downpipes into your tank. As well as cost-saving benefits, there are also environmental benefits. Some of the benefits of water tanks include:
Make use of a readily available natural resource
Generate your own water supply should there be a water restriction or in times of an emergency
Save money on your water bill by using roof-collected rainwater to water the garden, wash the car or flush the toilet
Reduce strain on the stormwater drainage system
Reduce site run-off and flood peaks
To maximise these benefits, it's important to use the water collected in your tank on a regular basis. This is less of a problem in the summer when people typically spend more time watering the garden or washing the car. In the winter, it's important to use the tank water as often as possible so you can continue to collect more water in your tank.
Whilst many people install a water tank for outdoor use, connecting your tank to your indoor plumbing system can help to maintain regular usage of the water you are collecting, helping to maximise your savings and reduce your reliance on mains water.
Potable vs non-potable tank water
Potable water is water that is safe for consumption – you can drink it, cook with it, clean your teeth with it – basically, anything you can do with your regular mains water, you can do with potable water collected from a tank.
There can be some differences between water tanks that are suitable for potable water and those that only need to be non-potable. This typically means that filters are applied to the water collected in potable water tanks and a fine mesh screen is used to protect the tank from insects and other debris.
You will also need to get a qualified plumber to fit your water tank to the main water supply to avoid any potential contamination of the mains water through backflow prevention.
For a lot of houses, they collect rainwater in tanks for non-potable uses. These include:
Washing the car
Watering the garden
Cleaning the boat
Washing sports equipment such as paddleboards etc
Washing the deck
Flushing the toilet
Running the washing machine
For non-potable use, the water you collect does not need to be treated in the same way as drinking water and this is a much more practical solution for a lot of households where you don't need to connect your water tank to the plumbing system or require a plumber.
Keeping on top of your water use and storage
If you do decide that you want to add a water tank at your residential property, it's a good idea to add a sensor to indicate the level of water in your tank.
At Smart Water, we have engineered the most advanced tank level indicator available that now offers full cloud connectivity.
Easy to install yourself, your Smart Water tank indicator provides you with all the information you need from our app or from one of our LCD displays. Find out how much water you consume on average from your tank, accurate pressure data and estimates on when your tank will run out of water based on current usage.
Find out more about our range of products or check out our FAQs for more information.